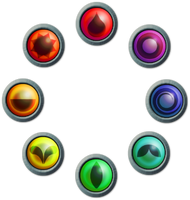 The Verse loosely describes the lifeforce that flows throughout Aquaria. Song is the purest expression of The Verse; skilled singers may wield this power to transform themselves and the world around them.
Peaceful fish resonate most strongly with The Verse.
The notes of The Verse follow the Ionian (major) scale, where green is the key (tonic) note. There is a perfect octave between green (the lowest) and yellow (the highest).